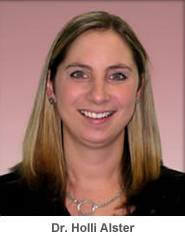 NJ podiatrist Dr. Holli Alster graduated from the Temple University School of Podiatric Medicine in Philadelphia in 2000. She completed a highly competitive surgical reconstructive residency at Temple University Hospital and Temple Children's Medical Center, where she also served as chief resident.
Laying the groundwork for her to become the top podiatrist in NJ, Dr. Holli Alster is a Diplomate of the American Board of Podiatric Surgeons where she achieved board certification in both foot surgery and reconstructive rearfoot and ankle surgery.  Fewer than 5 percent of foot and ankle surgeons in the United States have these surgical credentials (source: American Board of Podiatric Surgery). 
Dr. Alster is also a Fellow of the American College of Foot and Ankle Surgeons and the American Society of Podiatric Surgeons. Before becoming an NJ podiatrist, she was a residency coordinator and educator for young physicians, and sat on the Board of Directors for the American Society of Podiatric Surgeons. Currently, she serves on several committees for the American Society of Podiatric Surgeons.
The Best Podiatrist in Manalapan NJ and Surrounding Areas
Dr. Alster has been practicing podiatric surgery in Central New Jersey for the last seven years, and currently resides in Monmouth County as a podiatrist in Manalapan NJ. Serving all your foot and ankle concerns, she and the highly skilled staff at Family Foot & Ankle Center of Central Jersey, provides comprehensive care for infants, children, teenagers, adults, and seniors.

Call Dr. Holli Alster, the top podiatrist in NJ today for an appointment at 732.851.1617.