Seek Heel Pain Treatments from a Board Certified Doctor and Surgeon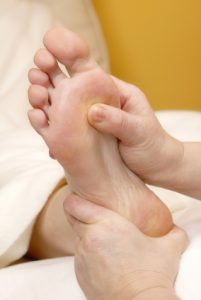 When you suffer from serious, permanent heel pain, treatments that end that pain are the only thing on your mind. We understand how much your life can change when it hurts to walk. At the Family Foot & Ankle Center of Central Jersey, you meet with a Board Certified doctor for heel pain whose only goal is to help you get moving comfortably and easily. You'll work with our professional and friendly staff led by Dr. Holli Alster, a renowned podiatric specialist when it comes to foot and heel pain treatments. We want to help you get back up on your feet as safely and as quickly as possible.
How Seeing a Doctor for Heel Pain May Help You Avoid Surgery
When our clients come to us and say "I have pain in my heel," they're often worried that they will be forced into surgery. At the Family Foot & Ankle Center of Central Jersey, we never force you into heel pain treatments that aren't right for you. We know that 95% of heel pain can be cured with conservative care. Dr. Alster applies an aggressive approach conservatively before considering surgical intervention. Before surgery, we may try:
– Steroid injections
– Taping
– Stretching
– Icing
– Anti-inflammatories
– Orthotics
– Physical therapy
Depending on what type of heel issues you're experiencing, there may be other non-surgical options available as well. If surgery is inevitable, Dr. Alster's certifications in rear foot and ankle surgery make her your best option for your doctor for heel pain, as she offers an unparalleled amount of skill and experience.
The next time you think "I have pain in my heel," know that there are options available to you. No matter what caused your heel issues, the Dr. Holli Alster and the Family Foot & Ankle Center of Central Jersey can help.  To schedule your appointment, please call us at (732) 851-1617 today!